TEHANA LO132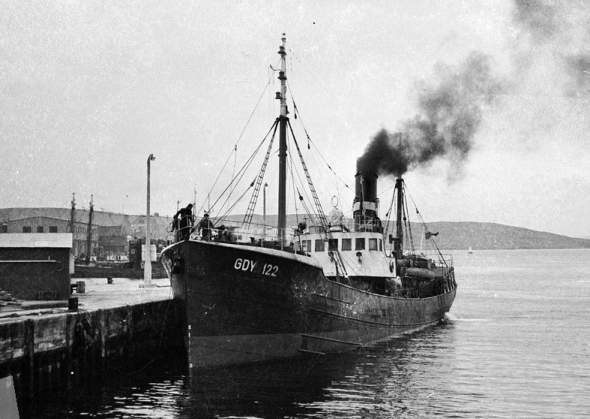 As SATURN GDY122 (See also below.)
With thanks and acknowledgements to Shetland Museum and Archives
Official No: 161200 Port and Year: London, 1929 (LO132)

Fleetwood, 1946 (FD132)

Gdynia, 1948 (GDY122)

Description: Steel side drifter trawler; single screw; coal burning. Ketch rigged.

Crew: 11 men (1929).

Built: 1929, by Cochrane & Sons, Selby (Yard.No.1039)

Tonnage: 333 grt 128 net.

Length / breadth / depth (feet): 135.4 / 24.9 / 13.3

Engine: T.3-Cyl. 99 rhp. By Amos & Smith, Hull.

Owners:

As TEHANA LO132

27 Feb 1929: Brand & Curzon Ltd., Docks, Milford.

Managers: Edward Brand & Charles Curzon, Docks, Milford.

3 Sep 1937: Boston Deep Sea Fishing & Ice Co. Ltd., 238 Dock St., Fleetwood.

Manager: Basil A. Parkes, 'Parkroyde', Linksgate, Thornton-le-Fylde, Lancs.

1946: As FD132

As SATURN GDY122

1948: Government of Poland, Warsaw (Ministry of Industry & Commerce)

Managers: "Dalmor" Przedsiobiorstwo Polowow Dalekomorskich, Gdynia.

(See photographs at top and bottom of this page.)

Landed at Milford: 2 Mar 1929 - 28 Jul 1937

Skippers:

Notes:

Tehana (te hana) is Maori for "the glow or gleam".

Aug 1939: Requisitioned by the Admiralty (P.No. FY.525) and converted to a minesweeper.

1944: Converted for wreck disposal (P.No.4.418) based at Barry.

Jun 1944: Operation Neptune; Normandy landings. Assigned wreck dispersal duties.

Mar 1946: Returned to owners.

1964: Broken up.

[Information supplied by the Fleetwood Maritime Heritage Trust and the Bosun's Watch website.]
Accidents and Incidents
From an unknown local newspaper of c. 7th March 1929:
A new era opened by the arrival on Saturday night of the latest steam trawler "Tehana" (Maori for "Bon Voyage" [sic]), destined for Icelandic waters, the first locally owned trawler to make such a voyage.
From an unknown local newspaper of c. 28th March 1929:
Tehana's maiden voyage.
The new steam trawler "Tehana", recently built for Messrs Brand and Curzon Limited, has arrived at her home port of Milford with her maiden catch of fish from Icelandic fishing grounds. It was a big new venture. The vessel left on the 5th March and arrived back for Monday's market, a voyage of just under three weeks duration. Various reports had come to hand as to the quality of the Icelandic fish she had on board. On being landed this did not turn out quite as much as stated, some six hundred odd kits in which were three hundred and sixty five kits of cod, sixteen kits of plaice, eighty kits of haddock being the chief lots. The fish was in excellent condition and the quality surprised many folk. It was unfortunate that other fishing ports were full up with similar catches, and as a result the "Tehana" suffered. Great interest was centred in the new arrival, and Icelandic fish was something of a novelty.
~~~~~~~~~~~~~~~~~~~~~~~
From an unknown local newspaper of Thursday 19th August 1929:
Will the big trawlers leave Milford? That is the question concerning many people in Milford just now. It was rumoured last week that the steam trawlers Tehana, Tekoura and Tewera, the three largest boats in the port, belonging to the fleet of Brand and Curzon Limited. These boats have been sold to Fleetwood owners. No definite statement has been made by the firm, but it is a fact that negotiations are proceeding, and the vessels are at present under survey in the dry dock. Representatives of the Boston Deep Sea Fishing Co., Fleetwood, are at present in Milford. This is the firm that bought up the David Pettit fleet of trawlers a few years ago.