TEKOURA LO14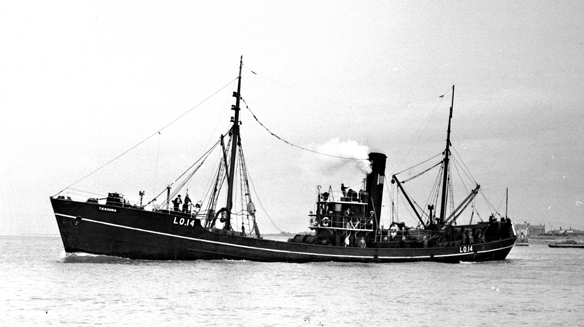 Courtesy of Fleetwood Maritime Heritage Trust and The Bosun's Watch
Official No: 161352 Port and Year: London, 1930 (LO14)

Fleetwood, 1954 (FD12)

Description: Steel side trawler; single screw; coal burning. Cruiser stern

Crew:

Built: 1930, by Cochrane & Sons, Selby (Yard.No. 1066)

Tonnage: 335 grt 130 net (1930); 368 grt 142 net (1938)†.

Length / breadth / depth (feet): 135.4 / 24.9 / 13.7 (1930); 150.7 / 24.9 / 13.7 (1938)†

Engine: T.3-Cyl. 99 rhp. 11.5 kts. By Amos & Smith, Hull.

Owners:

As LO14

9 Jan 1930: Brand & Curzon Ltd., Docks, Milford.

Managers: Edward Brand & Charles Curzon. (Same address.)

17 Sep 1937: Saint Andrew's Steam Fishing Co. Ltd., St. Andrew's Dock, Hull.
Manager: Basil A. Parkes, 'Parkroyde', Linksgate, Thornton-le-Fylde, Lancs.

31 Aug 1943: Heward Trawlers, 11, St.Mary-at-Hill, London EC3 (and Fleetwood).

Manager: R. S. Hewett

Oct 1948: Ocean Fisheries Ltd., Milford

Manager: M. Laboa (1949: Henry J. Horwood.)

As FD12

25 Feb 1954: Dinas Steam Trawling Co. Ltd., Fleetwood

Manager: Alfred J. Marr

Landed at Milford: 2 Mar 1929 - 28 Jul 1937; 25 Jan 1950 - 31 Aug 1952.

Skippers:

Notes:

Tekoura (or Te Koura Station) is in the region of Auckland, North Island, New Zealand, with an average elevation of 787 feet above sea level. The location is sparsely populated.

1938†: Completed lengthening by Smith's Dock Co. Ltd., Middlesbrough (including fitting new bow and stern sections).

1 Oct 1939: Requisitioned by the Admiralty (P.No. FY.247) as A/S; 1x4in.; 1x20mmAA; 2xLG (2x1). Based at Scapa Flow for escorts an A/S patrols off Scotland.

Apr 1945: Paid off to Fishery Reserve.

18 Apr 1946: Returned to owners.

Oct 1953 - Feb 1954: Laid up.

14 Oct 1954: Broken up in Boom, Belgium.

[Information supplied by "Cochrane Shipbuilders" Vol.2: 1915-39, and the Bosun's Watch website.]
Accidents and Incidents
From an unknown local newspaper of c. 19th August 1929:
Will the big trawlers leave Milford? That is the question concerning many people in Milford just now. It was rumoured last week that the steam trawlers Tehana, Tekoura and Tewera, the three largest boats in the port, belonging to the fleet of Brand and Curzon Limited. These boats have been sold to Fleetwood owners. No definite statement has been made by the firm, but it is a fact that negotiations are proceeding, and the vessels are at present under survey in the dry dock. Representatives of the Boston Deep Sea Fishing Co., Fleetwood, are at present in Milford. This is the firm that bought up the David Pettit fleet of trawlers a few years ago.
~~~~~~~~~~~~~~~~~~~~~~~~~~
From the West Wales Guardian of Friday 10th October 1948:
In the fishing doldrums at the moment, Milford is seething with rumours about trawler sales, but owners who have seen these vicissitudes before are not unduly alarmed about the situation. Even so, several of them are looking further afield, and Iceland and Spanish fishing are likely to figure prominently in the port's activities during the next 12 months.
Good news is that United Trawlers Ltd. have purchased the 151 foot long steam trawler Tekoura, now sailing out of Fleetwood. The ship is a modern vessel, larger than any of the other Company ships, and she is at present fishing the far northern waters. We understand that the Tekoura will probably be brought to Milford in the near future to continue Icelandic fishing.
................
~~~~~~~~~~~~~~~~~~~~~~~
From the West Wales Guardian of Friday 26th February 1954:
It was announced on Thursday that three Milford trawlers had been sold to Fleetwood, and the first of them is expected to leave this week-end. The trawlers - the Super class Tekoura, and the castle boats Gunner and George Hastings, have been sold by the bank to Messrs. John Marr and Son, Fleetwood. They formerly belonged to United Trawlers Ltd., which went into liquidation recently, and all are coal burners. Marrs bought the trawler Maretta from United last year, and own a number of former Milford trawlers, including the Daniel Clowden and George Adjell.
The Gunner and Tekoura have been laid up since October, but the George Hastings was tied up some time before that.
~~~~~~~~~~~~~~~~~~~~~~~
From the West Wales Guardian of Friday 5th March 1954:
The former United trawler Tekoura left for Fleetwood on Saturday in charge of Skipper Sid Hearne and a local skeleton crew. Her sister ships George Hastings and Gunner were taken this week to join their new Fleetwood owners by other skeleton crews in charge of Skippers Albert Saunders and James Hewett. All three boats have been purchased by the Dinas Trawling Co. (Messrs. Marr), the sale being arranged for the bank by Mr. E. E. Carter.