TENBY CASTLE SA89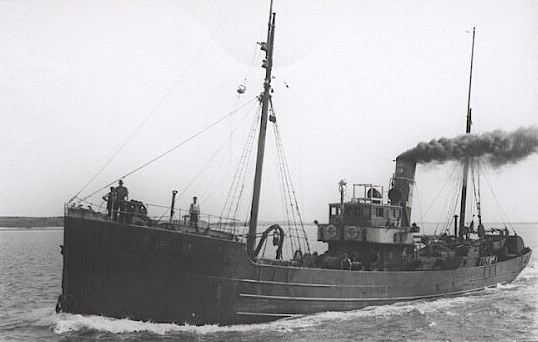 John Stevenson Collection
Official No: 143996 Port and Year: Swansea, 1928 (SA89)

Description: Steel side trawler; single screw, coal burning. Ketch rigged.

Crew:

Built: 1928, Cochrane & Sons, Selby. (Yard no. 1034)

Tonnage: 307 grt 117 net.

Length / breadth / depth (feet): 130.4 (140.9 oa) / 24.0 / 11.4

Engine: T 3-Cyl. 91 nhp. Amos & Smith, Hull

Owners:

As SA89.

1928: Consolidated Fisheries Ltd., Fish Docks, Grimsby

Manager: John D. Marsden. (Same address; as Sir John D. Marsden, Bart., 1930.)

T. R. Ronald. (1944-56?)

Aug 1956: Peter Hancock & Sons Ltd., Docks, Milford

Manager: Reginald Llewellyn Hancock, 'Westaway', Picton Rd., Hakin.

Landed at Milford: 11 Sep 1956 - 19 May 1959

Skippers:

Jas. Hastings.

Notes:

Aug 1939: Requisitioned (P.No. FY.629) as SAWFLY, and converted to a minesweeper.

1940: Based at Portland.

Oct 1945: Returned to owners, and reverted to previous name.

28 Jan 1960: Broken up at Briton Ferry.
Accidents and Incidents
From the West Wales Guardian of Friday 4th December 1959:
Two more Milford trawlers are to be scrapped. They are the Westward Trawlers Co. crabbers Cleopatra and Slebech. The Cleopatra (Skipper Bruno Linke) made her last landing this week and is now tied up to await delivery to the breakers.
Only last week it was announced that Messrs. Hancock's big trawler, the Tenby Castle, had been sold to a Bristol Channel breakers' yard.
~~~~~~~~~~~~~~~~~~~~~~
From the West Wales Guardian of Friday 8th January 1960:
"Tenby Castle" Aground
Messrs Peter Hancock's trawler "Tenby Castle", is dying hard...... condemned to the breaker's yard she was being towed to Messrs T. W. Ward's basin at Briton Ferry when she was swept aground by a 25-foot tide on Sunday morning, two miles from her destination, at the entrance of the River Neath. Her towing tug tried to pull her off the bank later on Sunday but went aground herself and did not refloat until Monday. With the tides dropping it is not expected that the "Tenby Castle" will be refloated until the next 25 feet tide on January 28th. Of 300 tons gross the Tenby Castle was built in 1928 and her owners will have to decide when to make the next attempt to move her.