WESTERDALE A511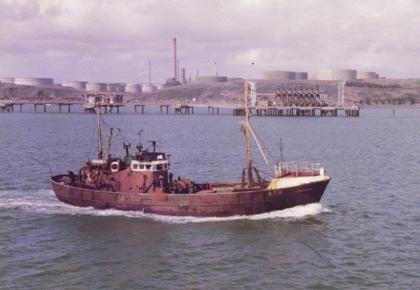 Off Esso Refinery, Milford Haven.
Kindly supplied by Robert Smith
Official No: - Port and Year: Aberdeen, 1960

Description: Steel side trawler; single screw, motor.

Crew:

Built: 1960, by the Fairmile Construction Co. Ltd, Berwick-upon-Tweed (Yard no. B542)

Tonnage: 50 grt 50 net.

Length / breadth / depth (feet): 72.9 / 19.5 / 8.3

Engine: 264 bhp Lister Blackstone EVSM4

[Information from www.fleetwood-fishing-industry.co.uk/2011/02/m-f-v-westerdale-a511/ ]

Owners:

As CLEMENTINA A511

1960: George Robb & Sons, Aberdeen.

As WESTERDALE

1965: Bruces Stores (Aberdeen) & James Slater, Findochty.

1973: John H. Banks, Cleverleys & Others.

1983: Linke Trawlering Co., Docks, Milford

Landed at Milford: c.1975 - c.1985

Skippers: Frank Reynolds (1978); T. Smith (1978- 80); Bruno Linke (1980-81).

Notes: Broken up at Ward's Yard, Castle Pill. [See photograph below.]
Accidents and Incidents
From the West Wales Guardian of Friday 11th July 1975:

MILFORD SKIPPER BUYS ANOTHER TRAWLER

For the second time in a month a Milford Haven fisherman has invested in another trawler to bring the port's fleet up to a dozen.

He is Skipper Bruno Linke of Mastlebridge (formerly of Waterloo Road, Hakin), who this week added the 78-ft. modern trawler Westerdale to the fleet. Bought in Fleetwood, she is a former Aberdeen vessel built in 1961 and Skipper Linke says of her, "She is slightly smaller than the other boats here, but more modern. It's a big step to take but I hope it will pay off."

His trawler-owning company, Linke Trawling, already runs another local vessel, the Lord Rodney, and both ships are managed by Norrard Trawlers.

The Westerdale docked at Milford at the weekend after Skipper Linke brought her round from Fleetwood with Messrs. Billy Reynolds and Stephen Creese as crew. On the way they did some fishing and brought in 25 kits which sold at Milford for £420. The trawler will usually have a crew of five.

.................

~~~~~~~~~~~~~~~~~~~

From the West Wales Guardian of Friday 29th December 1978:

Another Blow for Milford Trawlers?

Beset by weeks of gales, Milford's depleted fishing industry faces the New Year with two of its tiny fleet of eight vessels out of action.

The future of one of the port's largest trawlers is in jeopardy with the news that the Norrard vessel Picton Sea Lion is laid up because of major engine trouble.

"The ship has got a major engine defect," confirmed a Norrard company spokesman on Thursday. "She is laid up and her crew are paid off. No decision has yet been made about her future. It depends on a lot of factors."

Another local trawler, the Westerdale, lost her rudder in the pre-Christmas gales and she too is laid up awaiting repairs.

...........

~~~~~~~~~~~~~~~~~~~
From the Western Telegraph & Cymric Times of Wednesday 11th April 1984, with accompanying photograph (above):
The Milford Haven trawler Westerdale was towed into Milford Docks on Friday morning by Angle lifeboat. The trawler's nets had fouled her propeller near St. Govan's Lightship, some 12 miles off the South Pembrokeshire coast. The Aberdeen-registered 50-ton trawler, with a four-man crew, radioed to coastguards for help because tides were causing her to drift out to sea. Angle lifeboat was launched and took the trawler in tow shortly after midnight. The trawler was still in dock on Monday undergoing repairs.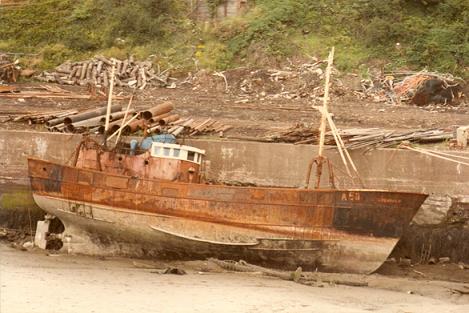 At Castle Pill, Milford, for breaking up.
Courtesy of Robert Kettle
Back to Other Registrations Q-Z