Winding the Lock Gates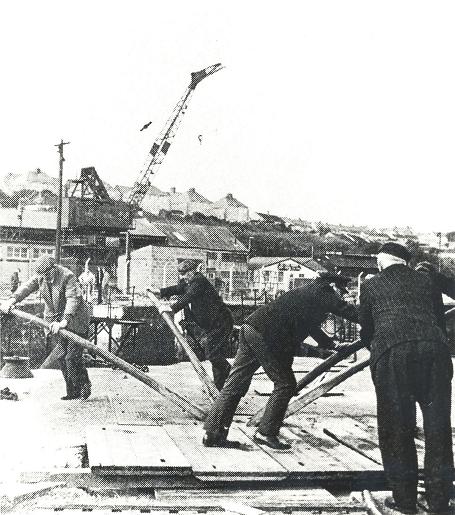 From "A History of the Milford Docks 1874-1974"
The last winding by "men on sticks" before the mechanization of the lock gates in December 1972.
Left to right: [Unknown], George Barnet, Cyril Davies and Howard Rees.
"Closing the gates during stormy weather could be a hazardous business. As the surging tide could cause the mechanism to kick back, everyone had to pull the sticks out very smartish to avoid being hit by the poles as the mechanism was forced into reverse. In this sort of weather one man had to stand by the brake to try and minimise the amount of chain pulled off by the surge, mainly to save having to wind it all back up again! Many times I remember my father being late home during bad weather. Of course no overtime was paid!"
Information kindly supplied by Tony Ayres.