Milford Trawlers Taken Up by the Admiralty in WW2
(from Toghill [2003, 2004]; Lenton & Colledge [1973])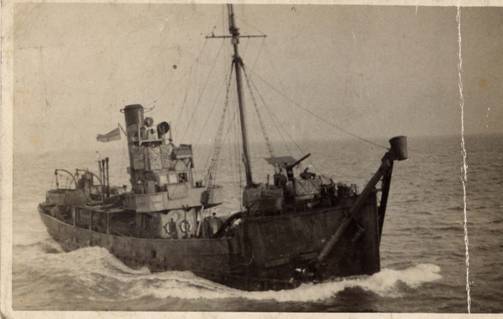 A photograph of MILFORD KING, kindly provided by David Todd, whose father Sydney Arthur Todd (1906-58), was her Chief Engineer from July 1941 to May 1943
As in 1914, 1939 saw a "call-up" of trawlers, and men to crew them. Fitting-out yards carried out the conversions, while the men were recruited into the Royal Naval Patrol Service, set up in the "Sparrow's Nest", a converted theatre in Lowestoft. The trawlers were now allocated Pennant Numbers, with the "Flag Superior" letter or number indicating their roles: FY ("Fishery") for minesweeping, anti-submarine, dan-laying and other trawlers; Z for boom defence (from 1940 onwards), Y for supply vessels, including the so-called "Essos" or fuel carriers, and 4 for auxiliary patrols, wreck dispersal and a few minesweeping and anti-submarine trawlers. Dan-layers worked closely with minesweepers to mark the swept channels. Those trawlers employed as Essos for the Normandy landings were effectively made redundant by the commissioning of PLUTO in 1944, and were released early to their owners. As many purpose-built minesweepers were commissioned during the War, they were able to take over this task from trawlers immediately after VE day, enabling a much quicker return to the owners than after the Great War.
The Milford trawler fleet numbered just over a hundred in July 1939; by the end of December the number had halved, with the newest and most efficient trawlers taken up. As in the previous War, over one hundred and fifty trawlermen were called up into the RNPS immediately, with many more following them. Milford trawlers served in the Persian Gulf, the Mediterranean, off the East Coast, and at the Normandy landings; six of them were lost through enemy action.
Many requisitioned trawlers from other ports were based in Milford during the War. Among them, from 1940 to the end of the War, were five Grimsby trawlers, forming the 8th A/S Group, which were mainly employed in "buttoning" and "unbuttoning" of local convoys in the Western Approaches: DERBY COUNTY, GRIMSBY TOWN, HUDDERSFIELD TOWN, LEEDS UNITED and YORK CITY. During this period, they were temporarily transferred to the Mediterranean and the Normandy landings, but returned to Milford on each occasion. ARSENAL was originally one of the "Football" boats, as they were called, but was transferred to Scotland early in 1940, where she was sunk following a collision.
Key:
A/A anti-aircraft

a/c aircraft

A/P auxiliary patrol

A/S anti-submarine

APV auxiliary patrol vessel

att. attached

BDV boom defence vessel

D/L dan layer

Esso fuel carrier

MG machine gun

M/S minesweeper

Op. Operation

TCL total constructive loss

TPI took part in

TU taken up by Admiralty

WDV wreck dispersal vessel

> became OR converted to

= renamed
| | | | | |
| --- | --- | --- | --- | --- |
| Name | Port No | Pennant No | Period | Armament / Role / Remarks |
| ALEXANDER SCOTT | LO 361 | FY 515 | 8.39-45 | 1-12pdr M/S > D/L |
| ALLOCHY | LT 109 | - | 3.40-45 | Misc.naval duties. (Hospital drifter) |
| ARACARI | M 101 | Y7.2 | 11.39 - 10.43 | Initially TU 1939 as M/S. Returned 1940. 01.43: Esso. Grounded Sicily 3.10.43 TCL |
| ARTHUR CAVANAGH | M 184 | FY 566 | 8.39-46 | 1-12pdr M/S. Purchased into RN. 91 M/S Group,E.Med. TPI Op.Countenance – cutting out Axis merchant ships at Bandar Mashur, 25.08.40. CO awarded MBE |
| CALIBAN | H 76 | Z 131 | 12.39-12.46 | 1-12pdr BDV. Purchased into RN. Based Grimsby. |
| COMET | LO 63 | - | 9.39-9.40 | Decoy vessel. Mined off Falmouth 30.09.40 |
| COTSMUIR | M 244 | FY 550 | 2.40-11.45 | 1-12pdr M/S |
| DAMITO | LO 81 | FY 521 | 8.39-1.46 | 1-12pdr M/S; > Esso, 1943 |
| DANIEL CLOWDEN | LO129? | FY 531 | 8.39-10.45 | 1-12pdr M/S |
| DAVID OGILVIE | LO 363 | FY 147 | 9.39-9.46 | 1-12pdr M/S |
| DILIMER | M 148 | | 1940-45 | Auxiliary Patrol Vessel |
| E & F | M 252 | Z 240 | 12.39-3.46 | BDV. Purchased into RN 11.43 =LAVEROCK |
| ELK | M 36 | 4.24 | 11.39-11.40 | 1-12pdr A/P M/S. Mined off E.Cornwall 27.11.40. |
| GADFLY (< TENEDOS) | M 24 | FY 517 | 8.39-9.45 | M/S |
| GWMAHO | M 28 | Z 135 | 11.39-1.46 | 1-12pdr BDV |
| HATANO | LO 177 | FY 662 | 9.39-1946 | 1-12 pdr M/S |
| HERO | M 218 | FY. 1866 | 6.40-11.44 | = HEROINE. 1-6pdr A/A; 24 mines. M/L. 04.44: Esso |
| IJUIN | M 39 | FY 612 | 8.39-1.46 | 1-12pdr M/S > D/L, 9 M/S Flot.. TPI Op.Neptune, Juno Beach. > M/S, 02.45-08.45 |
| JOHN BAPTISH | M 275 | | 8.39-10.39 | 1-12pdr TU for M/S, but returned to owners. (See Milford Trawlers 1915-39) |
| JOHN CATTLING | LO 364 | FY 536 | 8.39-7.45 | 1-12pdr M/S; 51st M/S Group, Grimsby |
| LEPHRETO | LO 458 | FY 519 | 8.39-11.44 | 1-12pdr M/S > Esso (Y7.17), 1944. Ferrying fuel to Normandy beaches. |
| LORRAINE | M 79 | 4.170 | 6.40-1.46 | 1-12pdr, 1-MG. APV > M/S, 2.41 |
| MANOR | M 238 | FY 333 | 8.39-9.7.43 | 1-12pdr A/S. Sunk by E-Boats, English Channel, 09.07.42 |
| MARGUERITA | M 11 | FY 802 | 11.39-10.45 | Harbour service |
| MILFORD COUNTESS | M 52 | FY 564 | 8.40-4.46 | 1-12pdr AA M/S. 91 M/S Group,E.Med |
| MILFORD DUCHESS | M 17 | FY 613 | 8.39-12.44 | 1-12pdr AA M/S |
| MILFORD DUKE | M 19 | Z 125 | 8.39-12.44 | 1-12pdr AA BDV |
| MILFORD EARL | M 68 | | 8.39-12.41 | 1-12pdr AA M/S Sunk by enemy a/c off Lunan Bay, E.Scotland, 08.12.41 |
| MILFORD KING | M 226 | FY 1573 | 12.39-11.45 | 1-12pdr AA APV > M/S, 4.40; > Esso, 03.44. |
| MILFORD PRINCE | M 224 | FY 614 | 8.39-12.45 | 1-12pdr AA M/S > D/L 4.44. TPI Op.Neptune, att. 6th M/S Flot. |
| MILFORD PRINCESS | M 228 | FY. 616 | 9.39-9.45 | M/S |
| MILFORD QUEEN | M 225 | FY 615 | 8.39-12.45 | 1-12pdr AA M/S. TPI Ops.Quentin/Quidnunc/Quixote cutting Germany / UK telephone cable, N.Sea, 18/19.05.40 |
| NEIL SMITH | LO 328 | FY 529 | 8.39-11.44 | 1-12pdr M/S. TPI Op.Neptune as D/L att. 4th M/S Flot., Force O |
| NOGI | LO 49 | | 8.39-6.41 | M/S Sunk by enemy a/c Norfolk coast 23.6.41 |
| OUR BAIRNS | LO 76 | FY 1566 | 12.39-7.46 | 1-12pdr M/S. > Esso, 1.44. Target towing 1945. |
| PETER CAREY | FD350? | FY 537 | 8.39-9.45 | 1-12pdr M/S |
| PHINEAS BEARD | M 271 | | 8.39-12.41 | 1-12pdr M/S. Sunk in a/c attack off Lunan Bay, E.Scotland, 08.12.41 |
| RICHARD CROFTS | LO 365 | FY 530 | 8.39-8.45 | 1-12pdr M/S (Returned to owners, 1940-7.41) |
| RUDILAIS | M 5 | FY 528 | 9.39-1.46 | M/S |
| SETTSU | LO 75 | Z 140 | 12.39-46 | BDV |
| SLEBECH | M 199 | Y 7.28 | 12.39-1.46 | 1-6pdr AA. M/S. 1.44 Water Carrier |
| TEHANA | LO 132 | FY 525 | 8.39-3.46 | M/S > WDV, 1944 |
| TEKOURA | LO 14 | FY 247 | 10.39-8.45 | A/S. Based Scapa Flow. |
| TEWARA | LO 9 | FY 526 | 8.39-6.46 | M/S |
| THEIR MERIT | LO 56 | FY 522 | 8.39-11.45 | M/S |
| THOMAS BARTLETT | M 273 | FY 553 | 11.39-40 | 1-6pdr M/S. Sunk by British mine off Calais, 28.05.40 |
| THOMAS CONNOLLY | M 270 | Z 141 | 11.39-12.40 | 1-12pdr BDV, Sheerness. Mined off Sheerness 17.12.40 |
| THOMAS LEEDS | M 70 | FY 520 | 8.39-11.45 | 1-12pdr M/S |
| TRANIO | M 196 | 4.233 | 11.39-6.41 | 1-12pdr M/S Sunk by enemy a/c while in tow in N.Sea 26.06.41 |
| WILLIAM CALDWELL | LO 374 | Z 142 | 1.40-12.46 | 1-12pdr BDV |
| WILLIAM CALE | LO 79 | FY 535 | 8.39-7.45 | 1-12pdr M/S |
| WILLIAM HANNAM | LO 383 | Z 129 | 10.39-4.40 | 1-12pdr BDV |