CLEOPATRA M213
CLEOPATRA II M235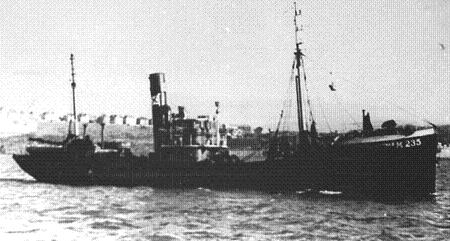 As M235
John Stevenson Collection
Official No: 127404 Port Number and Year: 12th in Milford, 1907 (M213)

23rd in Liverpool, 1934 (LL47)

4th in Milford, 1937 (M235)

Description: Steel side / beam trawler; steam screw, coal burning. Ketch rigged: foresail, mainsail and mizzen.

Crew: 9 men (1907)

Registered at Milford: 18 Nov 1907; 12 Jul 1937.

Built: 1907 by Smiths Dock Co., North Shields. (Yard no. 360)

Tonnage: 240.42 grt 70.59 net. (Amended by Board of Trade survey, 1 Jan 1914 to 90.71 net.)

Length / breadth / depth (feet): 120.25 / 21.6 / 11.7

Engine: T 3-cyl. 68 hp. 10 kts.; by W.V.V. Lidgerwood, Coatbridge, Glasgow, 1907.

Boiler: Wallsend Ship Yard, Wallsend-on-Tyne, 1907 .

Owners:

As M213

18 Nov 1907: David Pettit, 'Headland House', 47 Priory Rd., Milford (64/64)

(By 1926: "Westcliff", Wellington Rd., Hakin.)

Managing owner.

19 Jan 1915: As CLEOPATRA II (Sanctioned by the Board of Trade.)

20 Oct 1934: Boston Deep Sea Fishing & Ice Co. Ltd., Dock St., Fleetwood.

Manager: Basil A. Parkes, Cleveleys.

As LL47

21 Nov 1934: Harley & Miller, 39 Great Charlotte St., Liverpool.

Manager: Richard H. Jones, Wallasey.

As M235

12 Jul 1937: Westward Trawling Co. Ltd.

Managing owner: Erel Edwin Carter, 20 Greville Rd., Milford.

Landed at Milford: As M213: 27 Nov 1907 - 3 Aug 1914; 8 Jan 1920 - 21 Aug 1934

As M235: 2 Jul 1937 - 1 Dec 1959. (Excluding Aug 1939 - Feb 1940, while with Admiralty.)

Skippers:

John Blake cert. 2145, age 39, born Brixham, residing - ; signed on 8 Jan1908

Jack Setterfield 3670, 35, Ramsgate, Greville Rd., Milford; 4 May, 10 Jul 1908

George Gibbs 7184, 30, Gorleston, 24 St. Ann's Rd., Hakin; 11 Nov 1908; 18 Jan, 2 Feb, 14 Jul 1910; 12 Jan, 18 Jul 1911

J.D. Bryant 8257, 26, Lowestoft, - ; 18 Jan, 22 Jul 1910

William Kent 7835, 30, Lowestoft, - ; 2 Dec 1911

Edward William Hannaford 11446, 27 Aug 1912.

Harry W. Salter 827, 51, Exeter, - ; 14 Jan 1913

Walter Smith 7150, 40, Nottingham, - ; 29 Jan 1913

Notes:

20 Sep - 28 Dec 1910: Carried an extra trimmer.

Aug 1914: Requisitioned for war service and fitted for minesweeping (Admy. No. 140).

Dec 1914: Renamed CLEOPATRA II.

1919: Returned to owners, and remained CLEOPATRA II.

Aug 1939: Requisitioned for war service and converted for auxiliary patrol duties.

Feb 1940: As TEAZER, and returned to owners in the same month, reverting to CLEOPATRA II.

Cert. Cancelled & Milford Registry Closed:

21 Nov 1934. Registry closed. Vessel transferred to Liverpool owners.

21 Mar 1960. (Left Milford on 8 Feb 1960, under Skipper Tom Salter, to be broken up at Cork.)
Accidents and Incidents
From the Haverfordwest & Milford Haven Telegraph of Wednesday 4th December 1907:

Still they come, with more to follow. A record in the number of new trawlers arriving has to be chronicled this week. Last week three fine boats came round: on Monday, the steam trawler "Urania", built by the Dundee Ship Building Company for the Pembrokeshire Steam Trawling Company, in charge of Captain J. Gardner; on Wednesday the steam trawler "Cleopatra" from the Smith's Dock Trust, for Messrs. D. Pettit and Company (Captain J. Blake); on Thursday, a trawler bearing the name "Hero" (Captain Hawkins) for Mrs. Harries, Neyland, also from Dundee. On Tuesday this week came the steam trawler "Dewsland" (Captain Ben Bryant) from the Selby Ship Building Company, to the order of Mr. W. Jenkins and Company, and today another for Mr. D. Pettit and Company, viz., the steam trawler "Calliope" is expected to be brought in by Captain J. Dove, whilst the steam trawler "Gloria", Messrs. Longthorp and James, is said to have left for the fishing grounds.

During the next few weeks further additions will arrive. It is well, under the circumstances, that the extension of the Market is proceeding so rapidly. Another length has been commenced, and will probably be completed by the end of this year.

~~~~~~~~~~~~~~~~~~~~

From The Pembrokeshire Herald and General Advertiser of Friday 9th October 1908:

MILFORD HAVEN

................
MAMMOUTH FISH. [sic]

The Milford Haven steam trawler Cleopatra went into Billingsgate market the end of last week with a large catch of fish from the North Sea. Included in the catch was a fish weighing over a ton. The monster, which was 16 feet in length, with a girth of over 7 feet, apparently belonged to the shark tribe. At the auction sale the fish was purchased by a merchant for the modest sum of 7s. 6d

________________________________

Log-book entries:

20.10.08.

NNW from Bull, 100 miles.

John Donovan, Second Engineer, hand trapped, one finger off, while on watch on October 20th, at 7 p.m. While oiling the fore-end his foot slipped and the engine catch hand.

J.W.Setterfield. (Skipper).

N.Barrett. (Mate).

24.1.10.

275 miles W by ¼S St.Ann's Head.

Lost small boat and doing various other damage.

- whilst laying to in heavy gale shipped a sea.

J.Bryant. (Skipper).

C.A.Hooper. (Second Hand 8870.)

31.10.10.

Saturday 31st October 1910.

Whilst fishing about 240 miles W 1 S from St. Ann's Head the steam trawler "Abelard" was also fishing there. We caught each others gear. We hove our gear up but found it was entangled with the "Abelard's" and had to let go again. She then hove the gear up and whilst doing so hove herself into us damaging our port bow.

George Gibbs. (Skipper).

_______________________

From the Haverfordwest & Milford Haven Telegraph of Wednesday 2nd February 1910:

Local trawlers are having unprecedented experiences this winter out in the Atlantic. ... [ See INDIA and BOURNEMOUTH. ]

The steam trawler "Cleopatra" (Messrs. David Pettit and Company) arrived with her small boat carried away and other damage to deck property. In fact, all the vessels reported terrible weather conditions. Verily, the lot of the Milford fishermen is not to be envied.

[ See log book entry above. ]

~~~~~~~~~~~~~~~~~~~~~~~~~~~~

From the Haverfordwest & Milford Haven Telegraph of Wednesday 7th February 1912:

News reached Milford on Wednesday of a serious accident to a youth named Albert Flynn, aged sixteen years, a son of Richard Flynn, Trafalgar Road. The lad was making his first trip to sea having joined the steam trawler "Cleopatra", (Captain Harry Salter). It appears that on Tuesday morning Flynn was in the engine room attending to the lamps when by some means his foot got caught into machinery and he was terribly crushed. On discovering the accident everything possible was done to alleviate the lad's suffering. The vessel was in the Bay of Biscay, and Skipper H. Salter put back with all speed and reached Penzance on Wednesday morning and had Flynn taken ashore and removed to hospital, where it was found necessary to amputate the limb. The poor lad's condition was regarded as serious. The "Cleopatra" arrived home on Thursday. Much sympathy is felt with the lad and his father, who himself was only just returning to work after an accident, and a daughter is also in the Infirmary. The mother died some time ago.

___________________________

Statement by Skipper Walter Smith:

Left the port of Milford, 12th March 1914.

Deceased's name - John Bowen.

Age - 37

Service - 12 years

Rank, Chief Engineer.

Born - St. Ishmaels,

On the 14th of March at 8.45p.m. the vessel was steaming at about 9 knots per hour towards Crookhaven, ( Ireland) seeking shelter, and our Chief Engineer was on deck engaged in getting up ashes from the boiler room.

I was in the cabin, and the Mate was on the bridge at the wheel. The trawler shipped a big sea and then lurched heavily. At the same time I heard the telegraph ring. I jumped on deck and heard the Mate shout "Where's Jack?" I immediately realised that something was wrong and ordered the engines to be put full astern, I then rushed around the casing but failed to see anything

of the engineer.

I then went aft and to my surprise found the engines still going full ahead. It appears that my order had not been heard in the engine room, and in the excitement I had not noticed that the engines had not been stopped.

It was a very dark night and as the vessel had gone so far I concluded it hopeless to go back. We then altered course and proceeded back to Milford Haven, and arrived at the port at 2. a.m. on the 15th of March.

Our position at the time of the mishap - 55 miles SW of the Fastnet light.

Back to Trawlers 1888-1914

~~~~~~~~~~~~~~~~~~~~~~~~~~~~

CLEOPATRA II

From The Scotsman of Tuesday 26th November 1935, p.7:

ROYAL STURGEON CAUGHT OFF BARRA HEAD

The trawler Cleopatra 2, of Milford registration, fishing 20 miles off Barra Head, caught, along with an assortment of other fish, a Royal sturgeon measuring 11 feet long. She is taking the fish to her home port.

[Note: The CLEOPATRA II's port of registration in November 1935 was Liverpool, not Milford. The journalist must have relied on the 1935 edition of Olsen's Almanack, which was correct up to August 1934. The change of registration had taken place in November 1934.]

~~~~~~~~~~~~~~~~~~~~~~~~~~~

From the West Wales Guardian of Friday 9th April 1937:

We understand that the firm of Westward Trawlers (Mr. E. E. Carter) has purchased another steam trawler. She is the Cleopatra, one of the former trawlers of Jack Pettit's fleet.

The Cleopatra has been working out of the port of Liverpool since her departure from Milford. She is one of the whaleback type of medium sized trawlers of the Ardent class, and is 115 feet in length.

~~~~~~~~~~~~~~~~~~~~~~~~~

From the West Wales Guardian of Friday 18th January 1952:

FISHING "LEAGUE"

"DUKE" AT THE TOP AGAIN

After two years as "runners-up", Skipper Albert Saunders and the "Milford Duke" are once again in top place in the Milford fishing "league". In 1951 Skipper Saunders caught a greater value of fish than any other individual trawler captain in the port.

Second in the league on last year's results is Skipper W. Burgoyne, who has moved up a place, closely followed by Skipper Steve Pembroke, who was sixth in the list of 1949 catches. "Crack" Skipper for 1948 and 1949, Skipper Tom Donovan, D.S.C., is a close fifth in results while consistent Skipper James Jobson again occupies fourth position.

Here are the leading positions, the ships being classed according to size.

.....

BIG CRABBERS

This class has provided a real family struggle, with Skipper Tom Salter pipping his brother-in-law on the post and his brother finishing in third place!

The first three boats are owned by the Westward Company (Mr. E. E. Carter).

1. Cleopatra II. (Tom Salter), Westward.

2. Caldy (Hubert Morgans), Westward.

3. Slebech (Harry Salter), Westward.

4. Avonstar (Jack Ryan); 5, Ocean Brine (Frank Gambold); 6, Milford Knight (Harry Thompson); 7, Hero (Lenny Brown); 8, Montano (George Kersey); 9, Milford Countess (Teddy Funge).

~~~~~~~~~~~~~~~~~~~~~~~

From the West Wales Guardian of Friday 30th January 1953:

In a thrilling close finish, Skipper Tom Salter, Stratford Road, headed the list of big crabber skippers at Milford in 1952, beating Skipper Hubert Morgan by a short head in the fishing league. Only £94 divided their respective grossings for the 12 months. By an oversight, the big crabbers section was inadvertently omitted from our fishing league reported last week.

1. Cleopatra II (Tom Salter), Westward Trawling Co.

2. Caldy (Hubert Morgan), Westward Trawling Co.

3. Iser (R. Hannaford), Don Trawling Co.

4. Milford Knight (H. Thompson); 5. Milford Countess (Ted Funge); 6. P&Y (Jack Garnham).

~~~~~~~~~~~~~~~~~~~~~~

From the West Wales Guardian of Friday 23rd July 1954:

The trawler Cleopatra (Skipper Tom Salter) returned to port on Sunday to land boatswain Billy Sheehan, of Pill, whose hand was severely injured in an accident with the winch during fishing operations. Mr. Sheehan was taken to the County Hospital and later removed to Chepstow Plastics Hospital.

~~~~~~~~~~~~~~~~~~~~~~

From the West Wales Guardian of Friday, 24th September 1954:

A Milford fisherman, Mr. Billy Sheehan, Coombes Drive, a crew member of the steam trawler 'Cleopatra', had a nasty accident while working the steam winch. He caught his hand in the moving part and lost one finger and part of another, in addition to a badly lacerated hand. He had to have treatment in Chepstow Plastic [Surgery] Hospital.

~~~~~~~~~~~~~~~~~~~~~~~~~

From the West Wales Guardian of Friday 4th December 1959:

Two more Milford trawlers are to be scrapped. They are the Westward Trawlers Co. crabbers Cleopatra and Slebech. The Cleopatra (Skipper Bruno Linke) made her last landing this week and is now tied up to await delivery to the breakers.

Only last week it was announced that Messrs. Hancock's big trawler, the Tenby Castle, had been sold to a Bristol Channel breakers' yard.

~~~~~~~~~~~~~~~~~~~~~~

From the West Wales Guardian of Friday 19th January 1960:

Three Milford trawlers left this week for the breaker's yard. Last Friday the Cleopatra (Westward) left for breaking up at Cork, in charge of Skipper Tom Salter. On Tuesday the Milford King (Milford Fisheries) was taken by Skipper Reggie High to Newport, and on Wednesday the Merchant Venturer (Merchants Ltd.) left in charge of Skipper Tom Bartlett on her way to Newport.

Back to Trawlers 1915-1939