MILFORD PRINCESS M228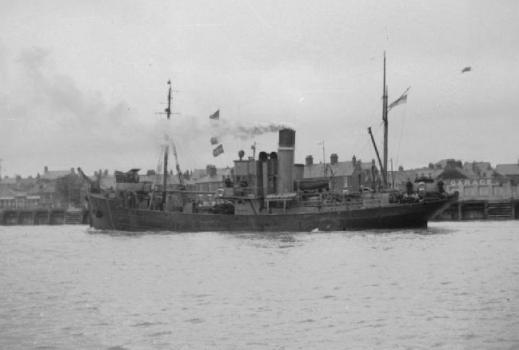 During Second World War
Thanks to Jim Porter and the Fleetwood Maritime Heritage Trust.
Picture reproduced under IWM Non-Commercial Licence.
Official No: 145741 Port Number and Year: 8th in Cardiff, 1924 (CF14)

7th in Milford, 1936.

- in Aberdeen, 1951 (A667)

Description: Steel side trawler; steam screw, coal burning. Ketch rigged: mizzen

Crew: 11 - 13 men

Registered: 11 Aug 1936

Built: 1924; by Smith's Dock Co., Southbank on Tyne, Middlesborough. (Yard no. 786)

Tonnage: 301.81 grt 112.72 net.

Length / breadth / depth (feet): 130.2 / 24 / 12.9

Engine: T 3-Cyl. 99 nhp. 10.5 kts. Engine: 1924, by builders ; boiler: 1924, by R. & W. Hawthorn, Leslie & Co., Newcastle on Tyne

Owners:

As CHIYO CF14

1924: Neale & West Ltd., Hope St., Cardiff.

Managers: Wilfred Neale, Morley H. Neale and Joshua Neale. (Same address.)

1926: Neale & West, Wharf St., Cardiff.

Managers: (Same names and address.)

Managers (1927): Morley H. Neale, 'Haldon', Clinton Rd., Penarth

Joshua S. Neale, 'Skomer', Marine Parade, Penarth.

As MILFORD PRINCESS M228

11 Aug 1936: Milford Steam Trawling Co. Ltd., Docks, Milford.

Manager: Harry Eastoe Rees. (11 Aug 1936 - 18 Sep 1938)

James Carpenter Ward (19 Sep 1938 - 8 Jan 1951)

As GLENBERVIE A667

8 Jan 1951: James Porter, 9 Devanha Gardens, South Aberdeen.

Managing owner.

Landed at Milford: As CHIYO: 28 Jul, 23 Aug 1936.

As MILFORD PRINCESS: 6 Sep 1936 - 29 Aug 1939.

HMS MILFORD PRINCESS: 29 Jun 1945.

As MILFORD PRINCESS: 10 Oct 1945 - 20 Dec 1950.

Skippers: James McDonald (1936); Harry 'Wompo' Thompson (1946-49); Alfred Beckett (1949); Jack Thomas (1949).

Notes:

Chiyo is a Japanese feminine name.

Glenbervie is in the north east of Scotland in the Howe o' the Mearns, one mile from the village of Drumlithie and eight miles south of Stonehaven in Aberdeenshire. (Wikipedia)

1 Sep 1939: Requisitioned by the Admiralty and converted to minesweeper. (P.No. FY.616)

18/19 May 1940: Took part in Operations Quentin / Quidnunc / Quixote; cutting the telephone cables between Germany and the UK in the North Sea, with the MILFORD QUEEN and JAMES LAY.

22 Sep 1945: Returned to owners.

Sep 1963: Broken up at Hamburg.

Cert. Cancelled & Registry Closed: 8 Jan 1951. Vessel transferred to the port of Aberdeen.
Accidents and Incidents
From an unknown local newspaper from the week beginning 26th July 1936:

A deal was completed on Monday afternoon, and on Tuesday morning the s.t. "Chiyo" entered Milford Docks. Mr. H. E. Rees (Manager) and Mr. J. C. Ward (Director) made the purchase, and they were accompanied by the Superintendent Engineer, Mr. Ivor Johnson.

Like the "Hatano", which arrived last week, the "Chiyo" is a fine type of trawler. The vessel was brought round from Cardiff by a Milford boy who has been sailing out of Cardiff, Skipper Jas. McDonald, Richmond House, and grandson of still another skipper, the late James McDonald, remembered in the old Sellick fleet. He will be in charge of the vessel when she puts to sea in about a week's time.

~~~~~~~~~~~~~~~~~~~

From The Irish Times of 9th September 1946, p.5:

Trawler Disabled by Mine.― The Milford steam trawler Milford Princess arrived in Cobh yesterday with the Swansea steam trawler Conway castle in tow. It had been disabled by a mine while fishing off the Old Head of Kinsale on Saturday night, and a member of the crew was blown into the water, but was rescued afterwards by his shipmates. Nobody was hurt.

From the West Wales Guardian of Friday 13th September 1946:

Early on Saturday morning, Land's End radio intercepted a report from the steam trawler "Conway Castle", saying "Had mine explosion, crew safe, in tow with trawler Milford Princess to nearest port." Later on, Lloyd's reported from the Irish port of Queenstown, County Cork, that the "Milford Princess" with the "Conway Castle" in tow had arrived at Queenstown. "Conway Castle", 274 tons, is owned by Consolidated Fisheries of Swansea. The 301 ton "Milford Princess" belongs to the Milford Steam Trawler Company and her master is skipper Harry Thomson. It is understood the "Conway Castle" has been repaired sufficiently to return to Swansea.

~~~~~~~~~~~~~~~~~~

From the West Wales Guardian of Friday 3rd September 1948:

The Milford Docks Company trawler ""Milford Princess'" had to be towed about sixty miles into Londonderry last weekend by the United Company's trawler "Maretta'. The "Princess" was in trouble after part of the warp got entangled with the propeller, but she was soon back at sea after repairs in port.
~~~~~~~~~~~~~~~~~~~
From the West Wales Guardian of Friday 30th December 1949:
After being hit by a giant wave which smashed her wheelhouse and partly flooded the forecastle, engine room and two cabins, the Milford Haven steam trawler "Milford Princess" reached her home port on Friday, escorted by another local vessel, the "David Ogilvie". Local fishermen who have seen the damage done to the "Milford Princess" have wondered how the ship managed to survive the thirty-six hour ordeal in a 90 miles per hour gale off Barra Head (west coast of Scotland), last Monday and Tuesday.
Commanded by Skipper Jack Thomas, Steynton Road, the "Milford Princess" was weathering one of the most severe gales experienced, when at 5-30 a.m. on Monday, a huge wave hit her. The upper part of her wheelhouse, containing charts and compass was washed away and electrical equipment, wireless gear and echo sounding apparatus smashed. Her small ship's boat, life saving float, mizzen sail and boom also disappeared in the tremendous seas. The engine room was partly flooded and the Skipper rang for full speed to clear the trawler of water, while pumps were also used in the engine room and forecastle.
For the next thirty-six hours the crew of the "Milford Princess" underwent a gruelling, anxious ordeal in freezing cold. The trawler, with charts gone and wireless smashed, could do nothing but dodge the biggest waves and drift about at slow speed. It was not until Tuesday evening that the crew's hopes were fulfilled, and the Milford trawler "David Ogilvie" (Messrs Thomas Jenkerson and Son) came into sight. The "Milford Princess" steamed up close and as soon as Skipper Tom Donovan was told of her plight he stood by as escort and accompanied the stricken vessel back to Milford Haven.
~~~~~~~~~~~~~~~~~~~~~~~
From the West Wales Guardian of Friday 8th December 1950:
Two of the remaining steam trawlers in the Milford Steam Trawling Company fleet have been sold to Grimsby firms. The first, the Milford Prince, left on Wednesday for the East Coast with a Grimsby crew. The second, the Milford Princess, is now in dry dock after undergoing extensive repairs, and will leave for Grimsby shortly.
The Princess, it will be remembered, was nearly overwhelmed by a huge sea 12 months ago. The top of her wheelhouse was washed away, and the skipper, Mr. Jack Thomas, and others of the crew had narrow escapes. The Milford Steam Trawling Company now has a fleet of six diesel trawlers, and one remaining steam vessel, the Milford King.
Back to Trawlers 1914-39