ISA O-81
ISER FD79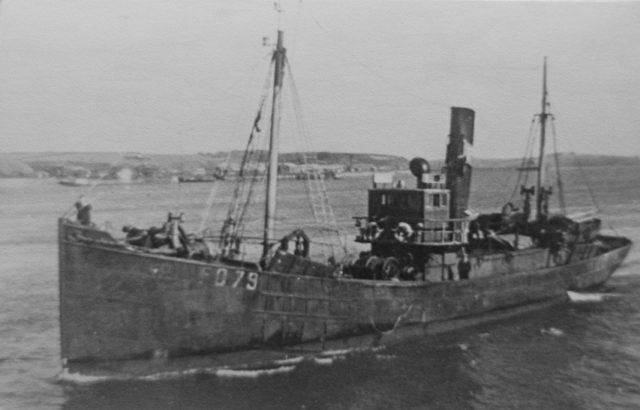 Kindly supplied by Ann Axford
Official No: 162060 Port Number and Year: Ostend, 1912 (O.81)

Fleetwood, 1930 (FD79)

Description: Steel side trawler; steam screw, coal burning. Ketch rigged

Crew:

Built: 1912, by Cochrane & Sons, Selby. (Yard no. 537)

Tonnage: 222 grt 99 net.

Length / breadth / depth (feet): 115 / 21.5 / 11.7

Engine: T 3-Cyl. 70 nhp by Charles D. Holmes, Hull

Owners:

As ISA O.81

Oct 1912: Soc Anon. Pêcheries à Vapeur, Ostend.

As ISER FD79

Apr 1930: Cevic Steam Fishing Co., Wyre Dock, Fleetwood.

Manager: Charles H. Friswell, 73 Bold St., Fleetwood.

Mar 1943: Richard Gordon Parsley (Don Trawling Co.) Docks, Milford.

Managing owner.

Landed at Milford: As ISA: 28 Oct 1914 - 20 Aug 1919; 18 Nov, 30 Dec 1919

As ISER: 7 Mar 1943 - 20 Aug 1953

Skippers: R. E. Hannaford; W. Joy; H. Everett; E. Smith; G. King.

Notes:

29 May 1917: Requisitioned for Fishery Reserve (with owners' permission). Armed with 8-pdr.

1919: Returned to owners.

23 Nov 1928: ISA stood by Belgian trawler LUCIENNE JEANNE in distress 10 miles ENE of the Smalls.

[The Times of 24 Nov 1928.]

22 Jun 1935: Caught by two Irish Civic Guards disguised as fishermen, when fishing within proscribed area off Glengad Head and taken into Lough Swilly; skipper Somers landed at Letterkenny to be tried; fined £37. Fleetwood trawlers seen as a "poaching menace". [The Times 24 Jun 1935.]

1938: Laid up at Fleetwood.

1955: Broken up.

[Information from the Fleetwood Maritime Trust and the Bosun's Watch website.]
Accidents and Incidents
From the Haverfordwest & Milford Haven Telegraph of Wednesday 17th October 1917:
BELGIAN SKIPPERS' BRAVERY REWARDED
The Board of Trade have awarded pieces of plate to Mr Louis Philippe Dedrie, skipper of the Belgian steam trawler Isa, and Mr Arene Eugene Blonde, skipper of the Belgian steam trawler Raymonde, in recognition of their services in rescuing two British shipwrecked crews in the North Atlantic Ocean in June last. Both skippers belong to the firm of Mr John Bauwens, whose fleet of trawlers has been located at Milford Haven since the outbreak of war. Skipper Blonde has specially distinguished himself, as this is the second time his services have been recognised by the British authorities. The first occasion was when he rescued a crew and actually chased a submarine. He also witnessed a Cardiff trawler being sunk in a fight with a submarine in the Atlantic a few months ago.
~~~~~~~~~~~~~~~~~~~~~~~~~~~~
[Translated from the article GUERRE NAVALE – Avec nos Pêcheurs à la chasse des sous-marins allemands, by Paul E.R. Scarceriaux, published in the Belgian journal Wandelaer & Sur l'Eau (date unknown) from Maurice Voss, via Gil Mayes.]
(Captain Louis Phillipe Dedrie) took command of O-81 ISA on 3rd August 1914, just when the Germans were about to take over Belgium on their way to Paris.
At about 6.00 am on 4th December 1917, south-west of the Smalls, ISA was fishing in company with three other trawlers. In drizzle, with poor visibility, and a strong breeze from the south-west, an unwelcome U-boat emerged 11 miles away. ISA was armed with an 8-pdr gun, with a range of 800 yards. The other trawlers recovered their nets in order to escape the German fire, but as soon as O-81 recovered her nets, she hoisted her battle standard; in other words, the White Ensign of the Royal Navy, showing that she was on active service with the Admiralty, which directed the offensive operations of our trawlers.
With her nets recovered, ISA O-81 poured an angry plume of thick black smoke from her funnel, and Dedrie exhorted his crew to do their duty, and "get in there!" There was an exchange of gun fire, as ISA, at full speed, charged towards the German, with plumes of spray ahead and astern from near misses. By zig-zagging cleverly, Dedrie avoided the enemy's fire, while firing back at the same time.
The U-boat had a tough trawler to deal with, and he soon hesitated, changed course, and fled. ISA angrily belched out even thicker smoke, and rushed after her foe, but the enemy was too fast for her. After a chase of 18 or 20 miles, the U-boat gave up, closed the hatch and submerged.
There were no jitters aboard the ISA, just the great frustration of not having hit the U-boat. The other trawlers were the O-87 [EMMANUEL], the M-97 [ARIES] of Milford Haven, and the L[T]-427 [LOLIST] of Lowestoft.
A month before, a U-boat had had the cheek to attack Dedrie. Conforming to the rules of wartime naval etiquette, the enemy preferred to let the matter drop, and submerged faster than he thought was possible. ISA had another encounter with a U-boat during 1917, which also got such a warm reception from Dedrie's 8-pdrs that it quickly returned to the safety of the deep.
If Dedrie hadn't had the luck to at least damage one of these lads, he could nevertheless claim several rescues.
On 6th February 1915, on the regular fishing grounds, with a choppy sea and a strong breeze from the west-north-west, ISA spotted a Italian-flagged three-master in distress. At full speed, Dedrie and the ISA approached and signalled her by flags, and then by loud-hailer. She was TERESAE 1 of Genoa, 450 tons, with a cargo of porcelain, and a crew of 14.
A buoyed rope was floated across to the vessel where it was picked up, so that two heavy steel hawsers from the trawler could be made fast through the hawse pipes of the TERESAE. O-81 began the towage, as a southerly gale sprang up, with heavy rain. TERESAE asked where they were bound, and ISA replied, "Milford Haven".
The towage lasted two days, and on February 8th TERESAE dropped anchor in the harbour of Milford Haven. The storm worsened, and the tall ship, dragging her anchors, was driven towards the rocks. Two Admiralty tugs came to her assistance, and brought her to anchor in sheltered waters. The captain of TERESAE, aged 60, was lost for words with which to thank Dedrie and his crew. There had been times when he'd thought that Dedrie was going to abandon them, and look after his own ship, but he didn't know the man, as such an idea would never have occurred to our Captain.
On June 18th 1917, ISAO-81 left Milford for her usual fishing grounds. Two days later, at about 1500, Dedrie spotted a floating object on the horizon, which could have been a raft, a boat, or a submarine.
The net was hauled aboard, and our tricolour was hoisted to indicate that the trawler had the object in view. It was a lifeboat from the BRITISH MONARCH 2, of Glasgow, torpedoed without warning three days before, when 300 miles north-west of Fastnet. The exploding torpedo killed three men aboard the steamer, which was armed, and displaced 4947 tons. The eighteen men aboard the lifeboat were exhausted and nearly dead from fatigue, tossed about as they been for sixty hours. Dedrie was a day's sail from Milford Haven, a distance which would have taken at least 21 days in the lifeboat. ISA made for Milford Haven at full speed, but was soon stopped by two patrol boats, who prevented her from proceeding, as it was a "U-boat zone" for the time being. Crossing St. George's Channel, ISA disembarked the survivors at Queenstown, and resumed fishing. At Queenstown, the eighteen survivors were reunited with forty of their fellow crew members who, aboard three other lifeboats, had been picked up by an Ostend colleague, Blondé, who was fishing in the area, and also brought them to Queenstown.
In the previous week, at one o'clock in the morning of the 12th June 1917, Dedrie recovered a boat from a torpedoed English steamer, the BAY STATE, 6583 tons, of Liverpool, sent to the bottom two days before, 250 miles north west of Fastnet. The boat had therefore been alone on the open sea for sixty-two hours. At the end of their tether, these poor wretches had all scrambled together into the same lifeboat, at the risk of capsizing it. A quartermaster aboard the ISA bawled at the panicking survivors with the full force of his powerful voice to calm them down, and got them to embark in an orderly fashion. They were given a hot meal, which they gulped down with gasps of relief. With this invasion of twenty three men from the boat, Dedrie had the problem of where to put them aboard O-81. Don't forget that, aboard a trawler, every square inch counts, so he had to share them out: three men in the chart room, some in the cabin, others in the crew's quarters, with an officer and a cadet in Dedrie's own pokey cabin. As this English officer left the ISA with tears in his eyes, he took off his ring, and forced Dedrie to take it as a souvenir. Again, on this occasion, RAYMOND O-140 picked up the other boat from this steamer, with 32 men aboard. As a reward for rescuing the crews of the BAY STATE 3 and BRITISH MONARCH, Dedrie received a silver cup, with a commemorative inscription.
A couple of days later, at 2300 on 2nd July 1917, ISA picked up twenty-four men from the Italian steamer PHOEBUS 4, Genoa, which had been torpedoed the day before. At the time, ISA was off Bull Rock. Captain Egigari of the PHOEBUS reported that his vessel sank 13 minutes after the torpedo struck. Five of his crew, of whom one was 18, another 17 and a third aged 16, were sent to the bottom together with his 3133 ton ship.
Among the survivors, two had broken legs, and another a shattered knee. For forty-nine hours these wretches had had nothing to drink or eat, and the bottom of the boat, only five metres long, ran with blood. It could be seen from the ISA. As a precautionary measure, the PHOEBUS' lifeboat was hoisted aboard, since in an emergency, and with such a crowd aboard, one never knew what might happen. Immediately ceasing her fishing operations, ISA set a course for her base to disembark the unfortunate casualties. Next day, falling in with a British Flower-class sloop (similar to our ZINNIA class), our trawler signalled "K6V", which meant "Crew found at sea". ISA signalled a request to transfer the wounded Italians, which was agreed and carried out. The Italian captain told Dedrie that while his ship was rapidly sinking, the five young men who remained aboard begged with clasped hands for the Germans' pity. With their usual behaviour on similar occasions, they smoked, sniggered and made rude gestures.
Helpless in their tiny boat, the shipwrecked survivors had to witness the cruel spectacle of the wreck taking their five shipmates to the bottom.
On 27 October 1916, about 3 o'clock in the afternoon, with a gale raging, the Ramsgate smack R281 5, with a crew of four, flew a distress signal from her mainmast. The badly damaged mizzen was hanging overboard, and the smack was not responding to her helm. The bad weather made it difficult for the ISA to haul up her net. A rope made fast to a buoy enabled a tow-rope to be passed across to the smack, so that she could be towed away from the Smalls. At 2330, the sea became still higher, breaking the towlines. At dawn on the 28th October there was an extremely violent wind, with blinding rain. To the east-north-east of the Smalls, a new buoyed rope was passed to the smack, and after the towline was made fast, she was back on course at half speed. At 2330, making for the entrance at St.Ann's Head, a huge wave again broke the towline. Another buoy and another rope.
The smack drifted rapidly towards the rocks which fringe the coast in this area. In less than ten minutes, Dedrie restored the tow, and ISA once again made towards Milford Haven, where they arrived at 1330.
The smack's crew told Dedrie that every time the hawser parted they thought it was all over for them, and that ISA would leave them to their fate. No – Dedrie wouldn't be so cowardly – damn it all, he wasn't an Ostender for nothing! Whenever there was a chance of saving a life at sea, whatever the difficulty, no seaman would think twice about having a go. Once again, Dedrie was congratulated by the British Admiralty for this rescue.
Notes:
1 No ship of this name on the Miramar Ship Index, although the Italian sailing vessel TERESA (or TERESA C), was sunk by U-35 off Cape Carbonara, Italy on 19th September 1916.
2 Actually ENGLISH MONARCH ON 121092 4947 grt; owners Monarch S.S. Co. (Raeburn & Verel), Glasgow. Bound for Genoa from the Clyde, with a cargo of coal. Sunk by U-24 on 18th June 1917, 300 miles NW by W from the Fastnet. Three lives lost.
3 BAY STATE ON 137427 6583 grt; owners White Diamond S.S. Co.(G. Warren & Co.), Liverpool. Bound for Liverpool from Boston, with a general cargo. Sunk by U-66 on 10th June 1917, 250 miles NW of the Fastnet. No lives lost.
4 PHOEBUS (ex ARMANDO R.) 3109 grt; owners Soc. Anon. Ilva, Genoa. Sunk by UC-44 on 30th June 1917, off Castletown, with a cargo of iron ore. No lives lost (according to http://www.uboat.net/wwi/ships_hit/4788.html )
5 FIERY CROSS R281 had been previously registered in Milford as M118. She landed at Milford as R281 in January, August, September and October 1915, and on 9th January 1916.
~~~~~~~~~~~~~~~~~~~
From the West Wales Guardian of Friday 30th January 1953:

In a thrilling close finish, Skipper Tom Salter, Stratford Road, headed the list of big crabber skippers at Milford in 1952, beating Skipper Hubert Morgan by a short head in the fishing league. Only £94 divided their respective grossings for the 12 months. Byan oversight, the big crabbers section was inadvertently omitted from our fishing league reported last week.

1. Cleopatra II (Tom Salter), Westward Trawling Co.

2. Caldy (Hubert Morgan), Westward Trawling Co.

3. Iser (R. Hannaford), Don Trawling Co.

4. Milford Knight (H. Thompson); 5. Milford Countess (Ted Funge); 6. P&Y (Jack Garnham).

~~~~~~~~~~~~~~~~~~~~~~

Bob Evans and 'Tarbrush'

John Stevenson Collection

Back to Other Registrations I - P